The Fire Code Compliance Manual for the Outdoor Storage of Wood Pallets is important to all pallet manufacturers. Many members live and work in the neighboring community.  In fact, many of them are involved in firefighting and other public safety efforts.
MOST IMPORTANTLY, SAFETY DIRECTLY AFFECTS OUR MEMBERS, THEIR EMPLOYEES, PEOPLE WHO LIVE NEAR THEIR FACILITIES AND FIRST RESPONDERS.
Working with fire safety experts, NWPCA helped to develop a section of the fire code.  The section applies to outdoor pallet storage and specifically to the wood packaging industry to mandate the use of effective safeguarding procedures. As a result, model safety codes are stronger when they accurately reflect proven best practices.
The manual, released January 2018, is a complimentary resource for wood pallet manufacturing and pallet recycling facilities. The fire code compliance manual outlines specific steps that each facility will need to take to comply with the new fire codes. It includes both the NFPA and ICC code regulations.
Most recently, NWPCA has made the fire code manual available in Spanish.
Some common Q&A along with resources and information that industry can use during this fire code development process.
WHAT ARE THE FIRE CODES?
There are two separate bodies that administer building code regulations for the external storage of wood pallets, The National Fire Protection Association (NFPA) and the International Code Council (ICC). Codes are published in the NFPA1 document for NFPA and the International Fire Code (IFC) for ICC.
WHICH CODE BODY APPLIES TO ME?
Jurisdiction of each code depends on the state and potentially the locality of your facility(s). Click the following link to view the map of which code applies in your state. You will need to consult with your local fire official to determine which code is enforced in your area.
HOW DO I MAKE SURE I'M IN COMPLIANCE?
The code compliance manual outlines specific steps each facility will need to take to comply with the new fire codes, for both the NFPA and ICC code regulations. NWPCA and WPA recommend that each facility work with their local fire code official to identify any unique circumstances that may require special attention to ensure compliance.
HOW DO I GET A COPY OF THE CODE?
With the link below, you will be directed to the NWPCA request form. Fill it out, check the box that designates you are a WPA member, and then you will be able to download the manual as a PDF book.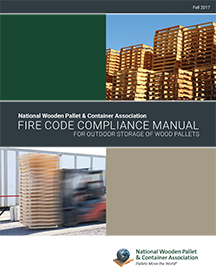 AND NOW AVAILABLE IN SPANISH - USE THIS LINK FOR SPANISH
Y AHORA DISPONIBLE EN ESPAÑOL - UTILICE ESTE ENLACE PARA ESPAÑOL